The What you see is what you get (WYSIWYG) Editor is a simple tool that allows content creators to add or modify material that closely resembles the final result that will be published and visible to end-users or patrons.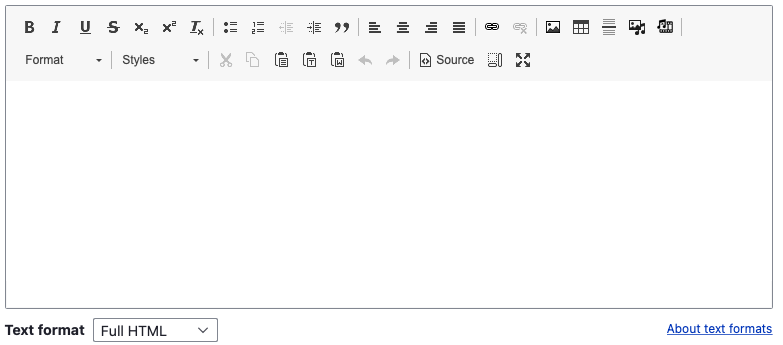 WYSIWYG Basic Functions
Use the Basic editor to manage your content using standard editing tools including:
Standard text formatting (Bold, Italic, Underline, Strikethrough, Quotations).
Standard text layout (Indent, Alignment, Bullets, Numbering).
Standard text editing tools (Copy, Cut, Paste).
Text Links.
Image, Audio and video uploading.
WYSIWYG Source Functions
When the Source button is selected, the WYSWYG transforms from a standard text input to an HTML code-based editor. This provides administrators with advanced control over the content that is entered, including the ability to:
Write source code in HTML
Paste Third-Party widget code.
Switch to 'Source' mode to perform some advanced functionality including:
Paste Embed code for content such as videos from YouTube.
Apply additional formatting to text including changing font sizes and colors.
WYSIWYG Additional Help
Click the About text formats link under the WYSWYG editor for additional tips and guidance on different HTML and CSS code that can be used to further enhance your content.